Project Management
Start-to-finish IT solutions for your business
At Beyond Infinity, LLC, our focus on proactive project management ensures that your project will succeed, as planned. Our dedicated project planning and support team has the experience you can count on to provide a comprehensive and customized technology solution for your unique business.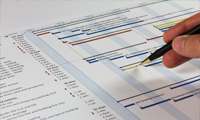 We believe in doing things right the first time. That's why no project is ever implemented without first preparing a detailed design document which is checked and approved by both you and your dedicated support team at Beyond Infinity.
We plan and support your project from beginning to end, including regular project meetings to track the progress of various contributors, and regular project reports that ensure everyone is kept informed. If a project involves multiple sites or regions, we'll even manage the local project managers for you.
Let us simplify your technology projects.