Professional Services
Stop IT from getting between you and your customers
Beyond Infinity understands how important a reliable technology infrastructure is to businesses in the professional services arena. Your staff and associates need to concentrate on their work and your clients – not the technology that makes it possible.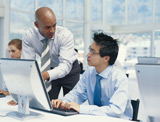 How often have you had to apologize and ask a customer to wait because your system was either down or slow? We know exactly how frustrating that experience can be and frankly it is just embarrassing. Let us make sure you never have to utter those words again.
Here's how we'll position your company and employees for success:
Virtually eliminate downtime with proactive network monitoring
Preserve and protect your electronic files
Make certain the software packages you need work together
Increase employee productivity with training and ongoing support
Maintain your network so you can keep your peace of mind
We'll partner with your business to find the proactive technology plan that meets your needs and budget. Let us show you how we can increase your billable hours – and your bottom line.