Integrated Homes
You've built the foundation for the house but have you thought about the foundation for your Integrated Home system?
Home automation technology these days is amazing! Controlling your home theater, lights, shades and thermostat all from your iPad is pretty cool. Unfortunately, these systems are only as good as the underlying IT network they rely upon. If your Home Automation system sits atop a poorly designed and installed IT infrastructure, trouble and frustration are near.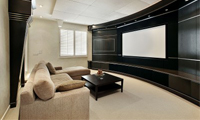 Beyond Infinity understands you expect your home automation system to work flawlessly every time you pick up the "remote." Let us make sure that happens.
What the AV or Home Automation company didn't explain was that all of these great amenities operate using traditional IT technologies. The implementation and success of these integrated systems requires the expertise of two unique skillsets, home automation professionals and IT professionals. As an example, IT companies don't know about lighting control and Automation companies don't know about building reliable wireless networks.
Here's how Beyond Infinity will assure your Home Integration project succeeds:
Design and implement a robust Home Automation ready network environment
Work closely and productively as a team with the Home Automation consultant
Bring our experience of working with home automation products including Savant, Creston, AMX, Control 4, Lutron and others to the table
Deliver a "Museum Quality" installation.
We will work with you, your Interior Designer and the Home Automation firm to deliver stunning results with the functionality you expect.